nCenterFocus::QuadricsStatistic Class Reference
[Quadrics Statistics]
hold statistics of a single centerfocus experiment : distribution of jacobian rank for different numbers of vanished focal values and different ranks of corresponding quadrics list separately for non-smooth and potential smooth points
#include <QuadricsStatistic.h>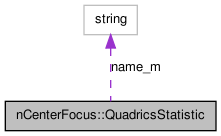 [legend]
Public Member Functions

void
clear ()
QuadricsStatistic (std::string name, int _permittedMinSuccessiveVanishedFocalValuesNum, int _maxPermittedVanishedFocalValuesNum, int _maxPermittedJacobianRank)
virtual
~QuadricsStatistic ()
void
addQuadricsStatistic (int successiveVanishedFocalValues, int jacobianRank, int quadricsRank, bool liftTestPassed=true)
TODO das ist eigentlich nicht mehr QuadricStatistic, sonderen bereits auch liftStatistic.

void
print (std::ostream &f) const

Private Attributes

std::string
name_m
std::pair
< BaseQuadricsStatistic,
BaseQuadricsStatistic >
quadricStatisticPair_m
first element holds statistic for potentially smooth points and second element holds statistic for non-smooth points.

---
Detailed Description
Definition at line 125 of file QuadricsStatistic.h.
---
Constructor & Destructor Documentation
nCenterFocus::QuadricsStatistic::QuadricsStatistic
(
std::string
name,
int
_permittedMinSuccessiveVanishedFocalValuesNum,
int
_maxPermittedVanishedFocalValuesNum,
int
_maxPermittedJacobianRank
)
| | | | | |
| --- | --- | --- | --- | --- |
| nCenterFocus::QuadricsStatistic::~QuadricsStatistic | ( | | ) | [virtual] |
---
Member Function Documentation
void nCenterFocus::QuadricsStatistic::addQuadricsStatistic
(
int
successiveVanishedFocalValues,
int
jacobianRank,
int
quadricsRank,
bool
liftTestPassed = true
)
[inline]
| | | | | |
| --- | --- | --- | --- | --- |
| void nCenterFocus::QuadricsStatistic::clear | ( | | ) | |
| | | | | | |
| --- | --- | --- | --- | --- | --- |
| void nCenterFocus::QuadricsStatistic::print | ( | std::ostream & | os | ) | const |
---
Member Data Documentation
---
The documentation for this class was generated from the following files: